Meal Plan - Week 4
**We don't provide meal plan for Breakfast as we assume you are having your Protein Shake! Pictures for illustration purposes only
** Click Recipes for all recipes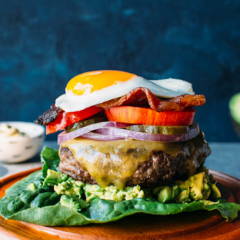 DINNER - Low-carb keto-friendly pizza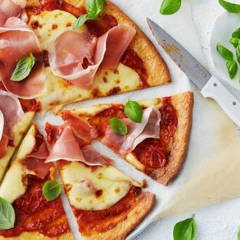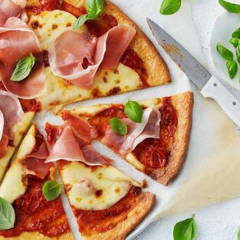 DINNER - Goat cheese salad with balsamico butter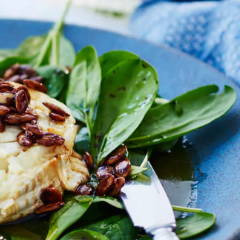 LUNCH - Left over - Goat cheese salad with balsamico butter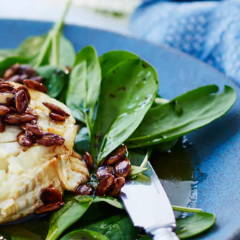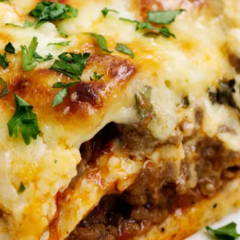 LUNCH - Left over lasagna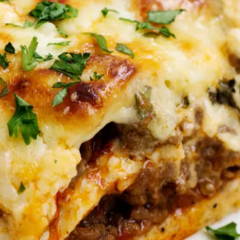 DINNER - Almond crusted barramundi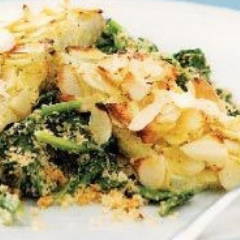 LUNCH - Left over Almond crusted barramundi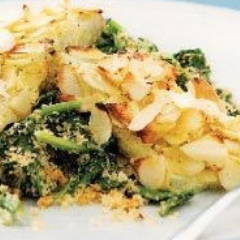 DINNER - Crispy Baked Chicken Drumsticks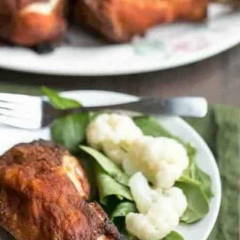 LUNCH - Left over Crispy Baked Chicken Drumsticks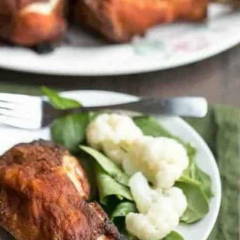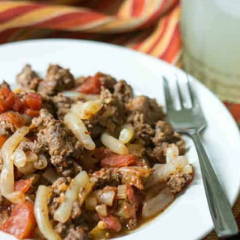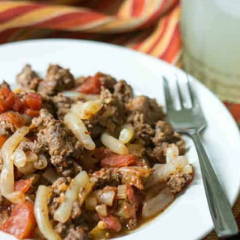 DINNER - Pulled Pork Stuffed Peppers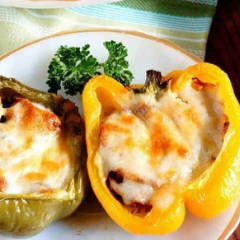 Low-carb keto-friendly pizza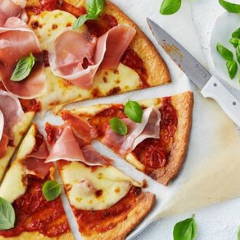 INGREDIENTS
140g (1 1/3 cups) coarsely grated mozzarella
55g (1/2 cup) almond meal
2 tablespoons cream cheese
1 egg
80ml (1/3 cup) tomato pasta sauce
40g (1/3 cup) sliced mozzarella
4 thin slices prosciutto
Fresh basil leaves, to serve
carbs 2.5g per serve
METHOD
Step 1
Place the grated mozzarella, almond meal and cream cheese in a microwave-safe bowl. Microwave on HIGH (100%) for 1 minute, stirring halfway, or until melted and combined. Add the egg and working quickly, beat vigorously with a wooden spoon until combined.
Step 2
Preheat oven to 200/180C fan forced. Place the 'dough' between 2 pieces of baking paper and roll to line a 32cm pizza tray. Remove the top piece of baking paper and slide the dough with the bottom piece of baking paper onto the pizza tray. Prick with a fork. Bake for 10 mins or until puffed and golden.
Step 3
Use the paper to slide the pizza from the tray. Flip back onto the tray to cook the other side. Cook for a further 5 minutes or until the top is golden. Spread lightly with tomato pasta sauce and top with sliced mozzarella. Bake for 3-4 minutes or until the cheese has melted. Drape with prosciutto and scatter with basil leaves.
Goat cheese salad with balsamico butter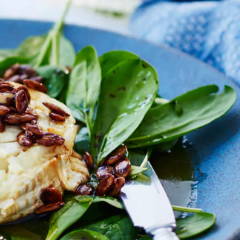 INGREDIENTS
275 g goat cheese
60 ml (35 g) pumpkin seeds
50 g butter
1 tbsp balsamic vinegar
75 g baby spinach

3g of carbs per serve
METHOD
Preheat the oven to 200°C.
Put slices of goat cheese in a greased baking dish and bake in the oven for 10 minutes.
While the goat cheese is in the oven, toast pumpkin seeds in a dry frying pan over fairly high temperature until they get some color and start to pop.
Lower the heat, add butter and let simmer until it turns a golden brown color and a pleasant nutty scent. Add balsamic vinegar and let boil for a few more minutes. Turn off the heat.
Spread out baby spinach on a plate. Place the cheese on top and add the balsamico butter.
INGREDIENTS
Keto pasta
8 eggs
280 g cream cheese
1 tsp salt
5 tbsp (40 g) ground psyllium husk powder
Cheese topping
475 ml crème fraîche or sour cream
150 g (325 ml) shredded cheese
60 g grated parmesan cheese
½ tsp salt
¼ tsp ground black pepper
120 ml fresh parsley, finely chopped
2 tbsp olive oil
1 yellow onion
1 garlic clove
600 g ground beef
3 tbsp tomato paste
½ tbsp dried basil
1 tsp salt
¼ tsp ground black pepper
125 ml water
Serves 6
9 grams of carbs per serve
METHOD
Start with the ground beef mixture, perhaps even the day before, for a more flavorful result.
Peel and finely chop onion and garlic and fry in olive oil until soft. Add the ground beef and fry until golden. Add tomato paste and spices.
Stir thoroughly and add water. Bring to a boil, lower the heat, and let simmer for at least 15 minutes or until most of the water has evaporated. Since the lasagna sheets used here don't soak up as much liquid as regular ones, the mixture should be quite dry.
Meanwhile, make the lasagna sheets according to instructions below.
Preheat the oven to 400°F (200°C). Mix shredded cheese with sour cream and most of the Parmesan cheese. Reserve one or two tablespoons for topping. Add salt and pepper and stir in the parsley.
Place lasagna sheets and pasta sauce in layers in a greased 9" x 13" baking dish.
Spread the crème fraîche mixture and the remaining Parmesan cheese on top.
Bake in the oven for about 30 minutes or until the lasagna has a nicely browned surface. Serve with a green salad and your favorite dressing.
Lasagna sheets
Preheat the oven to 300°F (150°C). Add eggs, cream cheese and salt to a medium-sized bowl and mix into a smooth batter. Continue to whisk while adding in the ground psyllium husk powder, a little at a time. Let sit for a few minutes.
Spread the batter on a baking sheet lined with parchment paper using a spatula. Place another parchment paper on top and flatten with a rolling pin until the batter is at least 13" x 18" (33 x 45 cm). You can also divide into two batches and use another baking sheet for an even thinner pasta.
Let both pieces of parchment paper remain in place. Bake for about 10-12 minutes. Let cool and remove the paper, slice into sheets that fit your baking dish.
Almond crusted barramundi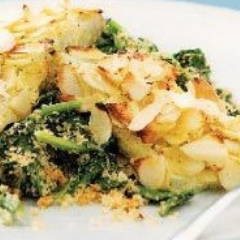 INGREDIENTS
1/2 cup (130g) Greek Style Yoghurt
2 teaspoons curry powder
Salt & freshly ground pepper
100g flaked almonds, roughly chopped
2 (about 500g) barramundi, cut crossways into 3cm pieces
Olive oil spray
2 bunches English spinach, trimmed
1 tablespoon olive oil
1 garlic clove, crushed
1 small fresh red chilli, finely chopped
1 teaspoon grated fresh ginger
1/2 cup (45g) desiccated coconut

7grams of carbs per serve
METHOD
Step 1
Preheat oven to 200°C. Line a baking tray with non-stick baking paper. On a plate, combine the yoghurt and curry powder. Season with salt and pepper.
Step 2
Place the almonds on a separate plate. Dip each barramundi piece in the yoghurt to coat evenly. Then dip one side of the fish pieces into the almonds. Place the fish on the tray, almond-side up. Spray lightly with olive oil. Bake for 10 minutes or until the fish flakes with a fork.
Step 3
Place the spinach leaves into a large heatproof bowl. Pour over boiling water and set aside for 30 seconds. Drain and refresh under cold running water. Drain the spinach and squeeze gently to remove any excess water.
Step 4
Heat the oil in a non-stick frying pan over a medium heat. Add the garlic, chilli and ginger and cook for 1 minute. Add the coconut and cook stirring for about 3 minutes or until the coconut is just toasted. Season with salt and pepper.
Step 5
Toss the coconut mixture through the spinach. Serve with the barramundi.
Crispy Baked Chicken Drumsticks and Thighs (Legs)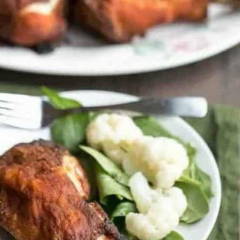 INGREDIENTS
5 whole chicken legs cut into thighs and drumsticks
4 teaspoons Cajun seasoning
2 teaspoons garlic powder
2 teaspoons smoked paprika
1 teaspoon onion powder
1 teaspoon thyme
1 teaspoon cayenne pepper
1 teaspoon kosher salt
0.5 teaspoon black pepper

Serves 5
2.1 grams of carbs per serve
METHOD
Wash chicken pieces and wipe dry with paper towels.
Combine all spices in a large zipper bag.
Line two jelly roll pans with foil and place cooling racks on top of each.
Coat each piece of chicken with spices by shaking in the bag.
Place each coated piece of chicken on baking rack.
Bake at 220°C for the first 20 minutes then reduce temperature to 180°C. Bake until skin is crispy, about 30 minutes longer.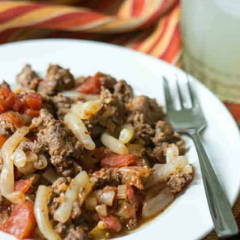 INGREDIENTS
220g package slendier
1/2 teaspoon onion powder
2 cloves garlic minced
450g sausage
410g canned diced tomatoes
30g chopped celery
1 packet stevia
1 teaspoon salt
1 teaspoon chili powder

Serves 6
3.5g carbs per serve
METHOD:
Drain noodles, soak in water for 5 minutes, drain again, then stir fry in a dry pan until noodle feel like they are sticking to pan.
Cook sausage with onion powder and garlic until brown.
Drain off fat as needed.
Add remaining ingredients.
Simmer covered for about 20 minutes; stirring often.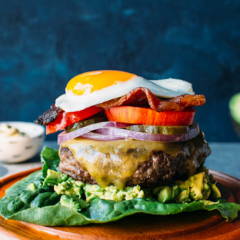 INGREDIENTS
1 piece of bacon per burger 
1 egg per burger 
1 burger patty (alternatively choose shaved deli meat)*
Lettuce
Smashed Avocado
Cheese
Onion
Gherkin/Pickle 
Sliced Tomato
Low carb sauce of your choice*.
5-6 grams of carbs per burger. *Shaved deli beef. *Without sauce.
METHOD
1. Prepare salad items as required. 
Set aside.

2. Cook burger patty or prepare shaved deli beef.

3. Stack/layer the burger to your liking. Add sauce if preferred.
Pulled Pork Stuffed Peppers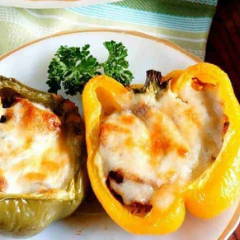 INGREDIENTS
105 g Pulled Pork
2 medium Green Bell Pepper cut in half (about 150 grams each)
1 medium Red Bell Pepper cut in half (about 160 grams)
1 medium Yellow Bell Pepper cut in half (about 180 grams)
60 g Fresh Spinach chopped
2 Tablespoon Parmesan
56 g Freshly Greated Mozzarella Cheese
Olive Oil for brushing bell peppers

Serves 8
2 gram of carbs per serve
METHOD:
Lightly brush bell peppers with olive oil. Place in a slightly greased baking sheet. Roast bell peppers in preheated oven at 180°C for 5 minutes. Cool for a few minutes for easy handling.
In a lightly greased skillet over low heat, wilt spinach for a few minutes.
Reserve 2 tablespoon spinach. Transfer the remaining spinach to pulled pork. Mix well.
Fill each bell pepper halves with mixed pulled pork. Top with the reserved spinach. Spinkle parmesan cheese and mozzarella.
Bake in preheated oven at 180°C for 5 to 10 minutes or until cheese has melted and slightly golden.
500g chicken breasts
8 garlic cloves
1 piece ginger 
soy sauce 
apple cider vinegar
olive oil
6 onion
2 cups broccoli 
red bell pepper 
1 cup mushrooms 
sesame oil
red pepper flakes
1 cut of steak (Multiply for number of serves) 
Lettuce
Tomato
Capsicum
Cucumber
Avocado
Cheese
Onion
duck fat, tallow
ground cumin
2 tins (400 g) whole peeled tomatoes
8 celery, peeled and sliced
500 ml beef stock
1 x 2.3 kg lamb shoulder with bone
500g beef mince
butter
tomato paste
dried oregano or dried basil
1 tbsp Worcestershire sauce
2 zucchini
1 leek
1 cup broccoli
1/2 cauliflower
6-8 sausages in links
2 tbsp butter
2 tbsp Dijon mustard
1 cup sour cream or crème fraîche
1/2 cup shredded cheese
fresh thyme
1 1/4 kg trimmed beef chuck roast
1/2 cup whole mushrooms
1/2 celery root (or sub turnips or radishes)
1/2 pearl onions (or regular onion, large dice)
5 cups beef broth 
1 large bay leaf
1/2 tsp dried thyme
Bacon (1 piece per burger)
Eggs (1 egg per burger)
burger patties (alternatively choose shaved deli meat)*
Lettuce
Avocado
Cheese
Onion
Gherkin/Pickle 
Sliced Tomato
Low carb sauce of your choice*.
1 whole chicken 
fresh parsley
lemon zest
1 whole lemon 
parsley sprigs
asparagus
broccoli
cauliflower
Add some snacks as you need, here are some ideas:
Hard Boiled Eggs
Diet Jelly with cream
Peanut Butter
Nuts
Vegetable Sticks
Ham And Cream Cheese Roll ups
Pork, Bacon
Cottage Cheese And Berries
String Cheese
Sunflower Seeds
Pepperoni And Cheese
Mushrooms
Turkey And Cheese Roll Up
Parmesan Crisps
Beef Jerky
Salami
Broccoli
Spinach Or Kale Chips
Cauliflower
Cucumber
Sugar-Free Chocolate 88% Cocoa
Avocado
Olives
Dip
Celery
Tuna Salad
Full-Fat Yogurt
Pork Rinds
Pork Crackle
Prawns With Guacamole
Artichoke
Cucumber Feta Rolls
Broccoli Soup
Tofu
Chicken Salad
XLR8 Burn Protein Shake
Ham
Pickled Herring
Tomato And Mozzarella Salad
Cheddar Cheese
Celery And Peanut Butter
Edamame
SNAXX Minute Muffins
SNAXX Brownies
SNAXX Pancakes